Moving is an exciting next step in anyone's life. If you're moving into or out of a place in Washington, D.C., Rent Maids would love to be a part of that step. A necessary but often dreaded part of the moving process is cleaning both your old and new place. With our help, you can eliminate the hassle altogether and focus on what really matters to you.
We provide home cleanings after you move your things out of your old place and before you move everything into your new place. Our services are comprehensive, so you can feel confident we'll get to every inch of your home with the professional expertise you need when it's time to move on and make a fresh start.
We've seen everything in our years of service, so we know exactly how to tackle any home you show us.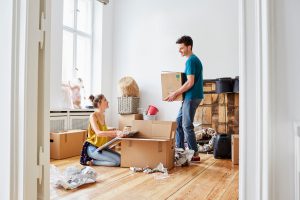 Move-In & Move-Out Cleaning in Washington, D.C.
When you're moving out of a rental home or apartment, there's likely a cleaning agreement in your lease. At the very least, a good cleaning before you leave will give you a grateful landlord and your security deposit back. And before you move into your new place, you want to make sure there's nothing left behind from the last occupants — not a hair, piece of trash or even a speck of dust. With our D.C. move-in cleaning services, we'll make sure your house is like new so you can work on making it feel like home from the second you move in.
Whether you're moving in or moving out, we'll go through the same deep-cleaning process from floor to ceiling. We'll cover:
Kitchens: Cleaning the countertops and floors is only the beginning of our kitchen cleaning services. We'll also make sure every appliance is sparkling and any stainless steel is polished.
Bathrooms: When we deep clean bathrooms, we scrub out sinks, tubs and toilets, eliminating hard water stains. Then, we disinfect every surface, ensuring every tile and vent is free of grime and dust.
Bedrooms and common areas: We'll take care of vacuuming carpets and stairs, cleaning baseboards and walls and dusting window ledges.
Cabinets and closets: We'll get in those crevices you haven't thought about in years. From the back of cabinets to inside wardrobes and the corners of closets, we'll wipe away cobwebs, wall marks and dirt.
We'll finish our work by removing any trash remnants and cleaning every interior window until it's streak-free and shining. Then, you'll be on your way to moving in and moving on!
Focus on Moving With Rent Maids
When you're moving, cleaning doesn't have to be another thing to add to your never-ending to-do list. Rent Maids' comprehensive move-in and move-out cleaning services can make any home Washington D. C. home immaculate.
Use our online calculator to schedule your cleaning services today. If you love our work, you'll be excited to hear about our recurring full-house cleaning process, so you can keep your home looking as good as it did the day you moved in.